Star Stable Entertainment proudly presents standalone animated content featuring voice talent from Jorvik to Hollywood! Experience exciting new stories and get to know new characters along the way.
Mistfall
Star Stable Entertainment's new animated series, Mistfall, brings a whole new binge-worthy dimension to Jorvik. Keep a lookout here for updates as the plot thickens and the excitement builds!
In nature, fire clears a path for new life – if only that were the case for Skye Rowan! This is the story of a tragic accident, a mysterious island, a magical horse… and an epic adventure. Mistfall, our thrilling new animated series, is coming in December! Star Stable Entertainment teamed up with Emmy Award-winning writer Alice Prodanou and Ferly Animation Studio to create this exciting addition to the Jorvik universe.
UPDATE: Due to COVID, Mistfall's release the release day had been pushed to January.
---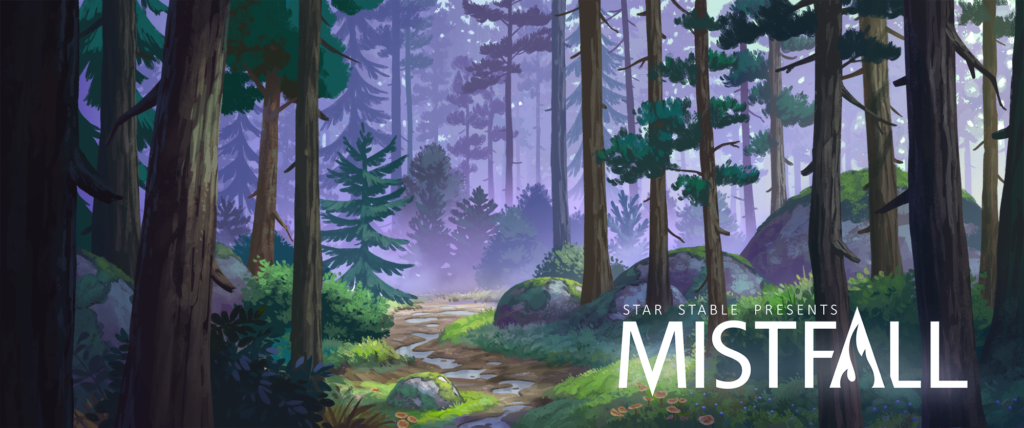 ---
Frequently Asked Questions
Where can I watch Mistfall (when it's released)?
The Episodes will be available on Star Stable's YouTube channel. https://www.youtube.com/user/StarStableOnline
How many episodes does the first season have, and what's the release schedule?
There will be ten five-minute-long episodes, and they will all be released simultaneously in December.
Are there any plans for more seasons?
We don't have any information about that just yet, so stay tuned for news!
Is Mistfall available in other languages?
Mistfall is being released in English. Watch this space for any updates regarding additional languages.
What's the age recommendation for Mistfall?
Since there are a few scary scenes, we recommend ages 10 and up. But always use your best judgment for yourself and your loved ones!
Where can I find more information about Mistfall?
The episodes will be on YouTube, and we'll be sharing more info on starstableentertainment.com and our socials, so make sure to check back for updates!
Who plays the main characters?
Skye is voiced by Banita Sandhu (Pandora), Alonso is voiced by Kevin Alves (Locke & Key), and Nova is voiced by Star Stable's very own Matilda Källström, one of the stars of our YouTube channel!
Will the characters in the Mistfall be available in Star Stable Online?
Some of the Mistfall characters started out in Star Stable Online, like Rania, Sigry, Dellingr, and Alonso. Keep an eye out in the game for a couple of new acquaintances!
When can I watch it?
Mistfall was recently released on January  16th!
---
Watch Mistfall!
Now that Mistfall has officially been launched, you can watch it on the Star Stable Online YouTube channel!