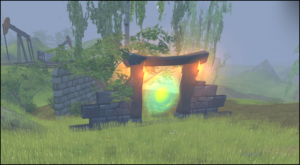 On October 24 & October 31st, Star Stable released its Halloween 2018 update! During the October 24 update, they added a brand new mini area called Galloper's Keep where you could go by entering a portal and purchase the Galloper Thomas horse (a version of the Shire Jorvik Wild Horse), ride through two races (one being the Scarecrow race), and speak to ghosts who lost their soul shards all over Jorvik.
When you spoke to the ghosts, they told you a bit of a back history into Galloper Thomas, himself! It seemed that him and the great Jarl had a disagreement so Jarl executed him. Not only that but you found that the Jorvik Wild Horse that you can buy, also known as Galloper Thomas's horse, was a mare that the Light of Aideen couldn't even reach. Spooky!
Of course, we also had the two Halloween stores with the magic powders making a return where it turned your starter horses into such scary monsters as a Zombie, a Mummy and a Skeleton! There were also special effect powders such as Blaze, Darkness and Bats. Personally the fire and the skeleton are my favorite, but what were yours? They were able to be purchased individually, in packs of five or packs of ten! If you got your Galloper Thompson costume, than you also got powders when you turned in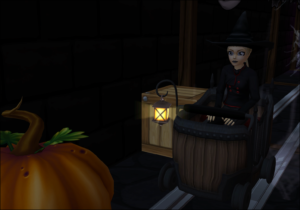 your extra shards!
On Halloween, they released part two of the update which included a lot of old favorites like the popular ghost hunt, though this time they gave you soul shards instead of food; the haunted train ride which took you through the halls of Silverglade Castle; the Pumpkin Hunt in the cellars of Silverglade Castle in the same vibe as Pacman; and the Smuggler's out in Cape West area brought back a monster?! It was a lot of fun to complete them and the Smuggler quest gave a wonderful amount of experience which is good because that quest took forever! Check out my video of the Smuggler quest if you were not yet high enough level to complete it.