Today, the ambassadors of Star Stable posted a #ImFromJorvik with outfits representing their countries and there is a new face involved! Me, being ever so observant, noticed a brand new member in the ambassador list! After talking to a few different ambassadors, it was confirmed that she was added a month ago so I would like to personally welcome her to the Star Stable team!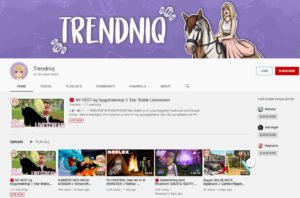 Welcome, Trendniq Gaming to the ambassador program!
She is a YouTuber from Denmark with 23k subscribers. I, personally, never knew who she was until a few hours ago but she does Star Stable Online videos and a variety of other types as well! Her SSO instagram, is adorable, as I always love fellow Outfit creators to the community! I cannot wait to see more of her posts around SSO world and know she will do an amazing job!
Youtube channel: Tredniq Gaming
Instagram: Outfits by Emmy Truthgale
Tags : ambassador